Corporate Branding for your Event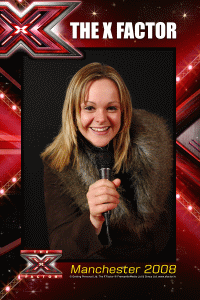 The PhotoBus can be branded with your own corporate details; both inside and out. It has been "generically" branded in black and white so that it doesn't clash with your colour scheme or logos.
The inside of the vehicle has removable panels, which again can be branded with your logos or colours. The touch screens can be moved or removed to make way for display panels or literature racks etc., so that you have total flexibility.
Branding the Photographs
We can also brand the photos, as they are printed with your logo or event details.
Branding can be turned on or off and all images are saved without the overprinting to allow you to use the original files later if required.
We can also supply specialist photo mounts and/or frames in a variety of sizes, colours or even have them specially designed for your event.

Instant Personalised Magazine Front Covers
Why not have your face or clients image on the front cover of a magazine!. This is always very popular with people and makes for a great memory of an event.
We can either use your existing artwork or we can create it for you to suit your event or requirements.
As with all our on-site printing it is instantly printed for the subject to take away with them within seconds of having the photo taken.