About the PhotoBus and its Equipment

The PhotoBus contains the very latest in instant Dye Sublimation Event Photo Processing Technology and Nikon Wireless Camera Equipment; coupled with all the necessary computing equipment required to operate these systems.
Wireless Technology
A Wireless Network is installed in the PhotoBus. This increases the effectiveness of the photo printing solution by speeding up the workflow. Photographers with Wireless Nikon cameras roam the Event and send images within seconds of capture straight back to the vehicle for instant printing. We are specialists in this field of photography, with experience of both Nikon and Canon professional cameras.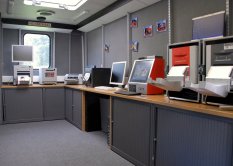 Complete Equipment List
This list can always be tailored to fit a client's exact needs, but the following list shows what is usually included in the PhotoBus. All electrical systems and equipment are fully tested annually and all necessary documention is carried on board:

Nikon Camera Equipment
Nikon D2xs Cameras (with Wireless WT-1/2 transmitters) x 3
Nikon D200 Cameras (with Wireless WT-3 transmitters) x 5
Nikon D300 Cameras (With Wireless WT-4 transmitters) x 2
Nikon 17-55 f2.8 Lenses x 2
Nikon 70-200 f2.8 Lenses x 2
Nikon 18-200 Lenses x 3
Nikon 28-200 Lenses x 3
Nikon 18-200 Lens x 1
Spare batteries and chargers for above.
Sandisk 8gb Memory Cards
Photo Processing Equipment
Mitsubishi IT5000 touch screen system x 6
Mitsubishi CP9550DW/S Photo Printer x 12
Mitsubishi CP3800DW Photo Printers x 4
Mitsubishi CP3020DA Photo Printer
Citizen CW-01 Photo Printer
Fuji ASK4000 Photo Printer - 10x8, 12x8 x1
Computing Equipment
Other Equipment